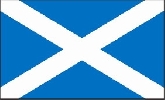 STANDARD SIZE: 60″ x 35″ (150 x 90 cm)
USUALLY SHIPS: 24/48 Hours
This flag is professionally screen printed UAT at 300 ° F. It resists sun and rain with UV filter – 100% Du Pont Nylon – especially knitted. It has two cords to attach, and can be used as a wall tapestry, pole flag or for proudly exhibition. Printed with high quality thermic inks to guarantee lifetime durability.
History Of the Scotland Flag
In use since the 12th century
St. Andrew is the patron saint of Scotland.  The white cross represents the cross St. Andrew was crucified on.   The cross is said to have appeared in the clouds with the blue sky as a background during a battle between the Scots and the Saxons.
Formal Name
Scotland
Local Name
Alba
Local Formal Name
Rìoghachd na h'Albannach
Location: Europe
Status: Constituent Country
Capital City: Edinburgh (Dùn Eideann)
Main Cities: Glasgow, Dundee, Aberdeen, Inverness
Population: 5,137,000
Currency: 1 pound sterling = 100 pence
Main Languages: English, Scots, Scots Gaelic
Main Religions: Protestant, Roman Catholic