Only-Flags has been in the flag & banner business for more than twenty years, helping our clients to develop the best visual impact possible. We design, print, finish and ship for just about every application possible including trade shows, sport events, corporate picnics, boat shows, farm shows, your garage and more.

We are in a business where the rules are VERY simple, in order to maintain our position with our clients we must create new and exciting products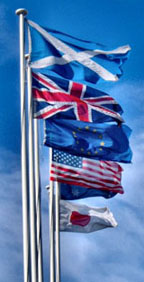 that are not available from our competitors, but more important is a product that will create
a large demand for a wide range of applications for promotional purposes.We are passionate about our work and understand your concern for quality products. That's why our business relationships rely on mutual trust and continuous interaction. We go that extra mile for our clients, designing sketches , performing color tests and offering pre-

production samples and any other type of consultancy that is required. Our people, quality , know-how and convenient prices is what keeps our clients happy.

We service clients ranging in size from Fortune 500 companies to small businesses, tailoring solutions to meet each company's needs while providing our best service for all. Our experienced sales department will be glad to help and show you the products that best suit your needs.

All our products are designed, developed and manufactured at our facilities. Our plant was specially built to maximize the production efficiency and cost control.

The Best Quality & Service!