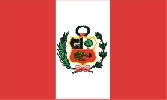 STANDARD SIZE: 60″ x 35″ (150 x 90 cm)
USUALLY SHIPS : 24/48 Hours
This flag is professionally screen printed UAT at 300 ° F. It resists sun and rain with UV filter – 100% Du Pont Nylon – especially knitted. It has two cords to attach, and can be used as a wall tapestry, pole flag or for proudly exhibition. Printed with high quality thermic inks to guarantee lifetime durability.
Peru Flag History
Adopted February 25, 1825
According to legend, General Jose de San Martin saw a great number of flamingos when he arrived in Peru in 1820. Taking this as a good omen, he decided that white and red should be the colors of the Peruvian Legion that he founded to liberate Peru. The white represents peace, dignity and progress; the red symbolizes war and courage. The arms show symbols of the animal kingdom (vicuna), vegetable kingdom (cinchona tree) and mineral kingdom (a cornucopia full of gold and silver coins). The laurel wreath above the shield represents the republic. The palm and laurel wreath aroung the shield is a symbol of peace and the will to defend the country.
Formal Name
Republic of Perú
Local Name
Perú
Local Formal Name
República del Perú
Location: South America
Status: UN Country
Capital City: Lima
Main Cities: Arequipa, Lambayeque, Trujillo, Chiclayo
Population: 23,381,000 Area [sq.km]: 1,285,220
Currency: 1 nuevo sol = 100 céntimos
Main Languages: Spanish, Quechua, Aymará
Main Religions: Roman Catholic