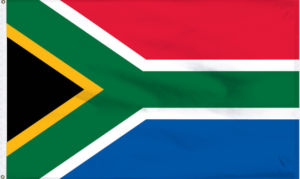 STANDARD SIZE: 60″ x 35″ (150 x 90 cm)
USUALLY SHIPS : 24/48 Hours
This flag is professionally screen printed UAT at 300 ° F. It resists sun and rain with UV filter – 100% Du Pont Nylon – especially knitted. It has two cords to attach, and can be used as a wall tapestry, pole flag or for proudly exhibition. Printed with high quality thermic inks to guarantee lifetime durability.
History Of South African Flag
Adopted April 27, 1994
The black, yellow, and green colors are the colors of the African National Congress.  These colors are in a "Y" shape representing the convergence and unification of the country.  The red, white, and blue colors are the colors of the Boer republics.
Formal Name
Republic of South Africa
Local Name
Suid Afrika
Local Formal Name
Republic of South Africa
Location: Africa
Status: UN Country
Capital City: Pretoria (Praetoria)
Main Cities: Cape Town, Johannesburg, Durban
Population: 41,749,000   Area [sq.km]: 1,221,040
Currency: 1 rand = 100 cents
Main Languages: Afrikaans, English, Xhosa, Zulu
Main Religions: Black Christian churches, Dutch Reformed, Roman Catholic