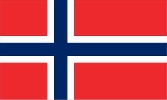 STANDARD SIZE: 60″ x 35″ (150 x 90 cm)
USUALLY SHIPS : 24/48 Hours
This flag is professionally screen printed UAT at 300 ° F. It resists sun and rain with UV filter – 100% Du Pont Nylon – especially knitted. It has two cords to attach, and can be used as a wall tapestry, pole flag or for proudly exhibition. Printed with high quality thermic inks to guarantee lifetime durability.
History of Norway Flag
Officially Adopted July 17, 1821
In a struggle to gain an unique independent flag, Norway finally decided to use the Dannebrog, a dark blue cross positioned inside a white one. The combination of red, white, and blue was influenced by the flags of France, the United States, and the United Kingdom, and were regarded as symbols of freedom.
Formal Name
Kingdom of Norway
Local Name
Norge
Local Formal Name
Kongeriket Norge
Location: Europe
Status: UN Country
Capital City: Oslo
Main Cities: Bergen, Trondheim, Stavanger
Population: 4,333,000 Area [sq.km]: 323,900
Currency: 1 Norwegian krone = 100 øre
Main Languages: Norwegian, small amount of Lapp and Finnish
Main Religions: Lutheran