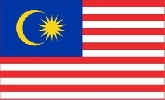 STANDARD SIZE: 60″ x 35″ (150 x 90 cm)
USUALLY SHIPS : 24/48 Hours
This flag is professionally screen printed UAT at 300 ° F. It resists sun and rain with UV filter – 100% Du Pont Nylon – especially knitted. It has two cords to attach, and can be used as a wall tapestry, pole flag or for proudly exhibition. Printed with high quality thermic inks to guarantee lifetime durability.
History of Malaysia Flag
Officially Adopted September 16, 1963
The crescent and star are symbols of Islam, and the fourteen points of the star as well as the fourteen stripes symbolize the fourteen members of the Federation of Malaysia.  Singapore left the Federation, but the flag remained unchanged.
The blue represents the unity of the peoples of Malaysia.  The yellow symbolizes the rulers.
Formal Name
Federation of Malay States
Local Name
Malaysia
Local Formal Name
Persekutuan Tanah Melayu
Location: Asia
Status: UN Country
Capital City: Kuala Lumpur
Main Cities: Ipoh, Penang
Population: 19,684,000   Area [sq.km]: 329,750
Currency: 1 ringgit (Malaysian dollar) = 100 sen
Main Languages: Bahasa Malay, Chinese, Tamil, English
Main Religions: Sunni Muslim, Buddhist, Hindu