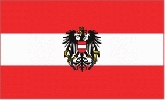 STANDARD SIZE: 60″ x 35″ (150 x 90 cm)
LIST PRICE: $ 28
USUALLY SHIPS : 24/48 Hours
This flag is professionally screen printed UAT at 300 ° F. It resists sun and rain with UV filter – 100% Du Pont Nylon – especially knitted. It has two cords to attach, and can be used as a wall tapestry, pole flag or for proudly exhibition. Printed with high quality thermic inks to guarantee lifetime durability.
History of Austria Flag
Adopted May 1, 1945
Dating back to at least 1230, the Austrian arms consisted of a red shield with a wide horizontal white bar. The red/white/red stripes first appeared on the state and war ensign, introduced on January 1, 1787. The red/white/red horizontal two color with no charge was adopted in 1918 as the national flag and in 1921 as the civil ensign. After the German occupation of 1938-1945, the flag was re-introduced in 1945.
Formal Name
Republic of Austria
Local Name
Österreich
Local Formal Name
Republik Österreich

Location: Europe
Status: UN Country
Capital City: Vienna (Wien)
Main Cities: Graz, Linz, Salzburg, Innsbruck
Population: 7,834,000 Area [sq.km]: 83,850
Currency: 1 Euro = 100 cents
Main Languages: German
Main Religions: Roman Catholic, Protestant